QNET, the global wellness and lifestyle-focused direct-selling company celebrated its 25th anniversary with a spectacular double convention in Penang, Malaysia. The milestone event brought together a staggering 20,000 attendees from over 20 countries, including Ghana, for two back-to-back conventions in September.
In line with the company's commitment to promoting a healthy lifestyle and reducing its environmental impact, QNET launched two standout products at the anniversary conventions.
Homepure Nova with Pi-Plus Cartridge – An enhanced version of the company's bestselling HomePure Nova 9-stage water filtration system, which promises improved hydration and fortified antioxidant benefits in your drinking water.
Bernhard H Mayer OMNI Watch Collection – A new range of Swiss timepieces crafted with eco-friendly materials certified by LEED (Leadership in Energy and Environmental Design), proving luxury and sustainability can go hand in hand.
The five-day conventions provided a valuable platform for QNET's customers and distributors to deepen their product knowledge, engage with experts, and experience dynamic product demonstrations. Attendees also benefited from business-building training sessions, learning opportunities from accomplished distributors, and insights into industry knowledge. The events were further enlivened by guest appearances from Bollywood celebrities and performances by international entertainers.
Demonstrating its commitment to sustainability, QNET implemented several eco-conscious initiatives during the conventions to reduce carbon footprint. From partnering with environmentally responsible vendors for booth constructions, eliminating single-use plastics, minimising printed materials through digital alternatives like QR Codes, to distributing purchases in reusable bags made from eco-friendly materials, every facet of the event embodied sustainability. QNET's venue of choice, the Setia SPICE Convention Centre in Penang is the world's first hybrid solar-powered convention centre and is also Green Building Index certified. The centre has also implemented initiatives such as bottling drinking water in-house, waste segregation, and rainwater harvesting to support its net zero goals.
In a further step towards environmental stewardship, QNET has pledged to plant 2,500 trees in Malaysia, to offset the event's carbon footprint.
"We are immensely proud of the empowering ecosystem we've nurtured, grounded in our core philosophy of RYTHM—Raise Yourself To Help Mankind. As we commemorate this significant milestone, we also cast our eyes forward to a future filled with promise and potential. With our commitment to innovation, sustainability, and global community-building, QNET is poised to not only adapt but thrive in the dynamic landscape of wellness and lifestyle, offering unparalleled opportunities for entrepreneurship and personal development to individuals around the world. Here's to the next chapter of impacting lives positively and promoting holistic wellness, as we continue this remarkable journey together," stated Malou Caluza, CEO of QNET.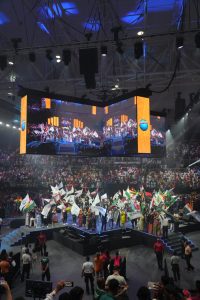 About QNET
QNET is a prominent lifestyle and wellness company that uses a direct selling business model to offer a wide selection of exclusive products that enable individuals to embrace a healthier, more balanced life. Established in 1998, QNET marks 25 years of making an impact around the world through its product offerings and e-commerce-powered business model, in 2023.
QNET proudly holds memberships in the Direct Selling Association in several countries, the Hong Kong Health Food Association, the Health Supplements Industry Association of Singapore, and more.
QNET is also active in several global sports sponsorships including in its role as the official direct selling partner of the Manchester City Football Club and the Confederation of African Football (CAF), underscoring its commitment to excellence and global reach.
To learn more about QNET and its mission of RYTHM – Raise Yourself To Help Mankind, please visit www.qnet.net.